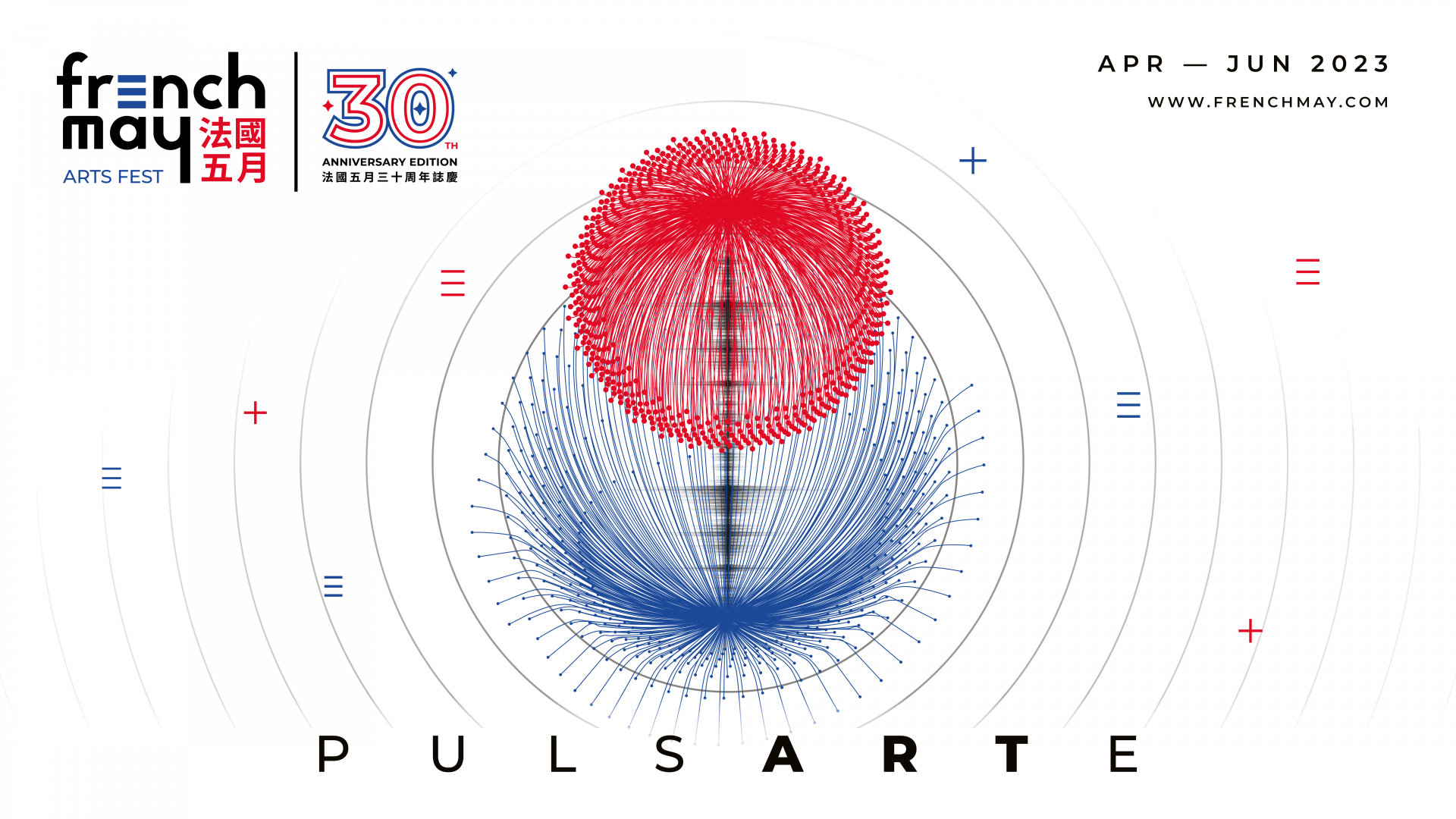 PULSARTE
Held for the first time in 1993, French May has grown to be one of the largest cultural events in Asia and has been celebrating visual arts, music, dance, theatre and gastronomy in the fragrant harbour for 30 years. In 2023, French May Arts Festival celebrates 30 years at the heart of Hong Kong's cultural scene, stimulating creation, collaboration and artistic exchange that pulsates through communities, genres, borders and beyond. With a diverse range of french art exhibitions, performance, arts festivals and art events in Hong Kong, from large-scale performances by world-renowned artists to seminars, workshops, and screenings.
In PULSARTE 2023, East meets West, Hong Kong meets France, as we forge cultural connections across the realms of dance, theatre, music, art and more in a series of original programmes created exclusively for the festival. With over 100 programmes presented across two months, French May attracts tons of visitors who are eager to witness and enjoy the wide variety of exhibitions and performances of the art events in Hong Kong that are coming from France. French May aims to reach out to not only the French community in Hong Kong but also the local community, making this arts festival in Hong Kong a truly remarkable cultural experience and exchange.
Over the years, French May has given people the opportunity to see world-class french art exhibitions and performances in Hong Kong. Although providing a great chance to witness some of France's most well-known works, French May also embraces new and emerging artists and musicians, including those from Hong Kong.
French May aims to promote French culture and arts in Hong Kong and to strengthen cultural exchange between France and Hong Kong. The festival features both established and emerging French artists and performers, as well as local and international artists who are inspired by French culture. Reaching beyond borders, the Virtually Versailles exhibition at the Hong Kong Heritage Museum transports visitors to the sights, sounds and scents of this wondrous palace through the mediums of digital and virtual reality. Engaging across communities, co-presented with Dance Reflections by Van Cleef and Arpels, we bring acclaimed international contemporary dance performances to both traditional and unique venues throughout the city, as we continue to present an exciting array of cultural experiences for everyone in Hong Kong to enjoy.
PULSARTE 2023 welcomes over 100 French artists to Hong Kong, including the Tana String Quartet, Keren Ann and the Debussy String Quartet, Théo Fouchenneret's exceptional collaboration with pianist Niu Niu, and last but not least, Archibald Caramantran to manipulate their spectacular giant puppets in the city, presenting a truly international festival for our 30th Anniversary Edition.
In order to reach a wider audience and introduce French culture and arts to them, the french art exhibition, art events in Hong Kong are held not only at traditional venues like Hong Kong City Hall and the Hong Kong Cultural Center, but also at museums, art galleries, shopping malls, public spaces, and extended to the Happy Valley Racecourse, ensuring that people from all walks of life can explore and participate in this cultural event.
Ever on the cultural pulse, French May Arts Festival Hong Kong, being a vibrant and dynamic festival, is here to revive your creative spirit, as we challenge you to expand your artistic horizons in PULSARTE 2023!
Download Festival Brochure Here